Custom Filter Bags and Products
Universal Filters, Inc. will design and fabricate any type of bag or media filtration product to meet your air or liquid filtration requirements. We continuously manufacture all types of custom filter bags including socks, waste and scrap bin liners, drum liners, filter cones, and special application supported and unsupported filter bags of all sizes and shapes.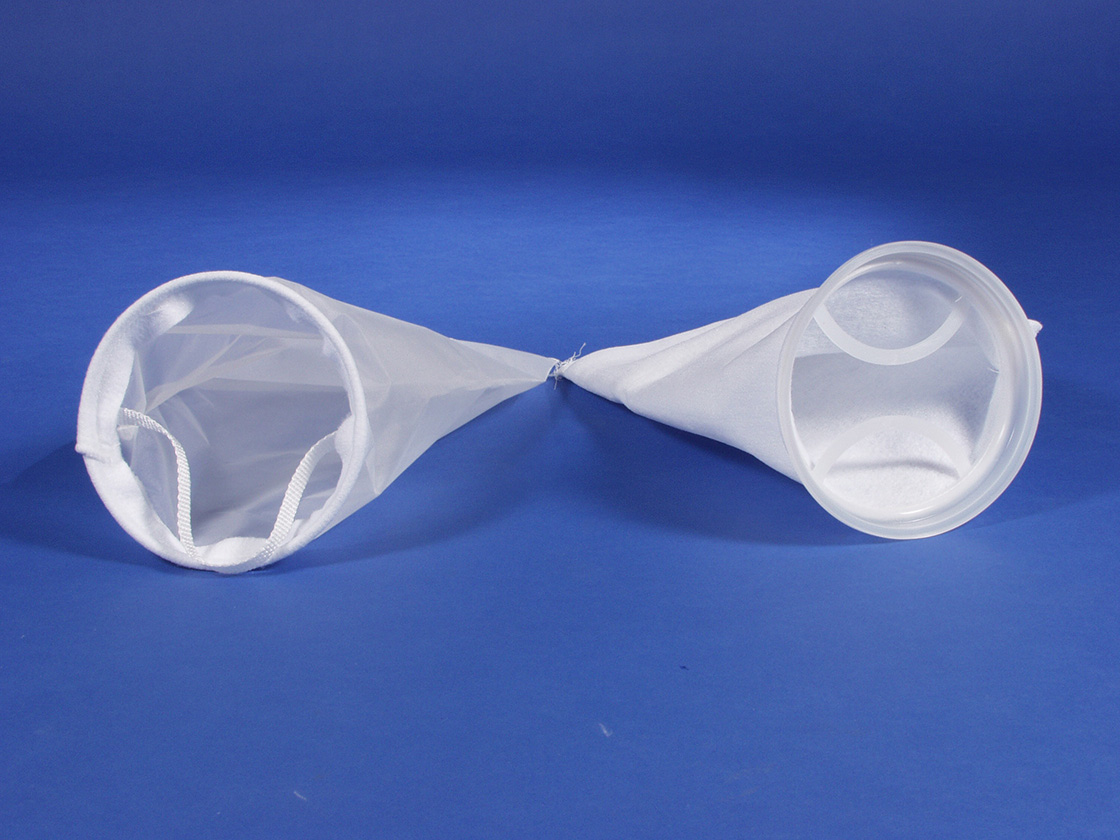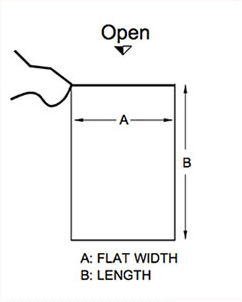 Tie-On Filter Bags
Universal Filters, Inc. manufactures a wide variety of Standard "Tie-On" Filter Bags (Figure 1) specifically designed to be tied or clamped directly to an outlet pipe, for high quality, low pressure filtration without costly filter baskets or housings.
Tie-On Filter Bag Materials & Construction
Tie-On Filter Bags are usually constructed of mesh style materials that fall into two different categories: Multifilament Mesh and Monofilament Mesh.
Multifilament Mesh materials offer filtration from 100 to 1500 microns. These materials are less expensive than monofilament materials of the same rating and are popular in "batch" filtration where the filters cannot be reused. Polyester is the most common multifilament material.
Monofilament Mesh materials offer precise filtration from 1 to 1200 microns. These materials are more expensive than multifilament materials but are significantly stronger and sometimes can be washed and reused.
Standard Tie-On Filter Bags can be constructed with or without a drawstring top. The drawstring can be deleted if the bag is to be clamped to the pipe with a hose clamp. All seams are double stitched for superior strength.
Chart A
| Pipe Size | Actual OD | | Pipe Size | Actual OD |
| --- | --- | --- | --- | --- |
| 1/8" | 0.405 | | 2-1/2" | 2.875 |
| 1/4" | 0.540 | | 3" | 3.500 |
| 3/8" | 0.675 | | 3-1/2" | 4.000 |
| 1/2" | 0.840 | | 4 | 4.500 |
| 3/4" | 1.050 | | 5 | 5.563 |
| 1" | 1.315 | | 6" | 6.625 |
| 1-1/4" | 1,660 | | 8" | 8.625 |
| 1-1/2" | 1,900 | | 10" | 10.750 |
| 2" | 2.375 | | 12" | 12.750 |
Tie-On Filter Bag Size
Factors in choosing a Tie-On Filter Bag size include surface area, micron rating desired, and the size of the pipe the filter bag will be tied or clamped to. Keep in mind that the "stated" pipe size is NOT the actual outside diameter of the pipe.
Chart A shows the actual OD for pipe 12" and smaller.
Although both nylon monofilament material and polyester multifilament material are the most widely used materials, other materials can be used for custom applications.
Tie-On Filter Bags can be manufactured in a very wide range of sizes. Bags with flat widths of less than 1" can be made, and bags with flat widths of 72" are not unheard of. Bag lengths can be extremely long as well. The only real limitation to bag size is the strength of the material itself; a large Tie-On Filter Bag full of particulate can get very heavy and tear the material.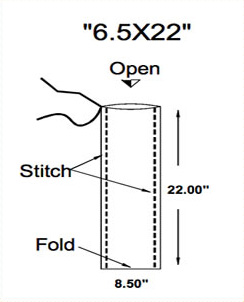 Tie-On Filter Bag Part Numbers
Tie-On Filter Bag part numbers are created using the following guidelines.
Fill in the desired material and micron rating as the "(mat)" and "(mic)" sections of the part number, followed by the flat width of the bag in inches, the bag length in inches, and a D if a drawstring is required. If a drawstring is not required, eliminate the D.
Two Types of construction are available.
Type One has stitching on two opposite sides with a fold at the bottom, opposite the bag opening (See Figure 2). Standard sizes "12X18" and "18X24" are constructed in this manner.
Example: your customer requests a 100 micron nylon monofilament bag 6.5" wide by 22" long, with a drawstring top.
The part number would be NMO-100-6.5X22D.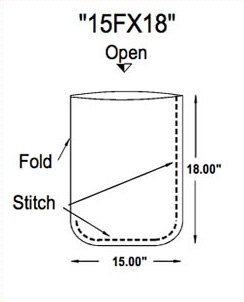 Type Two has stitching on one side and across the bottom (see Figure 3).  Unless a preference is stated, the most efficient use of material will dictate the type of construction.
Example: your customer requests a 600 micron polyester multifilament bag 15" wide laid flat by 18" long, with no drawstring.
The part number would be PEMU-600-15FX18.
Standard Size vs Custom Size
Often times a standard size will work in place of a custom size. All standard ring bag sizes are available with the ring omitted and a drawstring added. For example, a #1 size bag (size code "P1D") would be identical to a "12FX18D" Tie-On Filter Bag.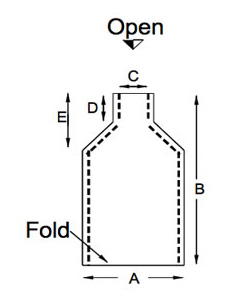 How To Construct a Custom "Bottle" Shaped Filter Bag
To construct a custom "Bottle" Shaped Filter Bag
(See Figure 4), five dimensions need to be specified.
They are:
A: FLAT WIDTH
B: BAG LENGTH
C: NECK OPENING, (flat width)
D: NECK LENGTH
E: SHOULDER LENGTH
Bottle Style Filter Bags are available with or without drawstring tops.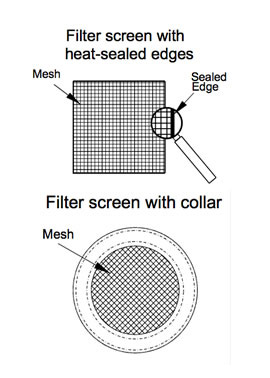 Filter Screens
We fabricate various types of filter screens in a variety of shapes and sizes for filtering, screening, and other processes. Products can be supplied with various edgings as required. Applications requiring heat-sealed edges to eliminate the possibility of fiber contamination are one of our specialties
Need Help?
Contact us anytime and one of our customer service reps or our knowledgeable distributors will respond as soon as possible.